Hello there! I was so excited to be asked to contribute to an article for the Etsy Seller Handbook this month!
Audrey
from Etsy's Seller Educational Editorial Team wanted to include some tips on Instagram in her upcoming article
'How 4 Sellers Achieved Their Goals in 2015'.
The article, which you can read
here
, includes some quotes from me as well as
Marla Mrowka
,
Lauren Fairweather
and
Tiffany Whipps
;
or below you can read through my answers to Audrey's questions in full!
................................................................................
As a relatively new seller, what made you focus early on building a social media following?
My aim was to build up a collection of designs and product ideas that I loved before opening my Etsy shop and I've really enjoyed using social media as a sounding board to help with this. I write a blog as well as having Instagram, Pinterest, Twitter and Facebook accounts and interacting with other sellers this way has been invaluable for me to find out all I needed to learn to start selling online.

How did you start building your following? What are your favorite things to photograph and share? (I noticed a cute cat!)
Instagram is such a great community of friendly, supportive and creative people, many of whom are makers and artists themselves. My first posts on Instagram were made to take part in group hashtag projects and that's how I gained my first few followers. I loved seeing other people's work, what they were making, how they styled their product shots and it was very encouraging to get feedback on my pictures too.
I concentrate my posts on my work and local surroundings but I've found that the most popular images are usually behind the scenes or work in progress pictures - especially if it's something really hands-on like block printing. Oh, and people also love to see a furball friend if you have one!
What tip do you have for others looking to build a social media following?
Use relevant tags on your posts and join in with social hashtag challenges in the subjects that interest you. Treat people on Instagram as you would any friend: answer their comments, be involved and tell them if you like what they're working on (there is so much inspirational talent!). Be open about your work, challenges and progress and you'll find a supportive and constructive community of fellow makers and future customers! Most of all, be patient; it can take time to reach people who are genuinely interested in the work you do.
How has building followers on Instagram positively affected your shop (this doesn't have to be in terms of sales. It could be by making you more confident, for example).
Instagram can be a brilliant promotional tool and it has definitely generated traffic to my Etsy shop - my most recent sale was made just ten minutes after posting the product on Instagram. The feedback I've had from followers has also been really useful as market research; taking note of how many likes each picture gets on Instagram has helped me choose between products and new directions to take as well as more practical things like which photo to use as the main listing image. I hope that I've been of similar use to the artists and makers I follow too!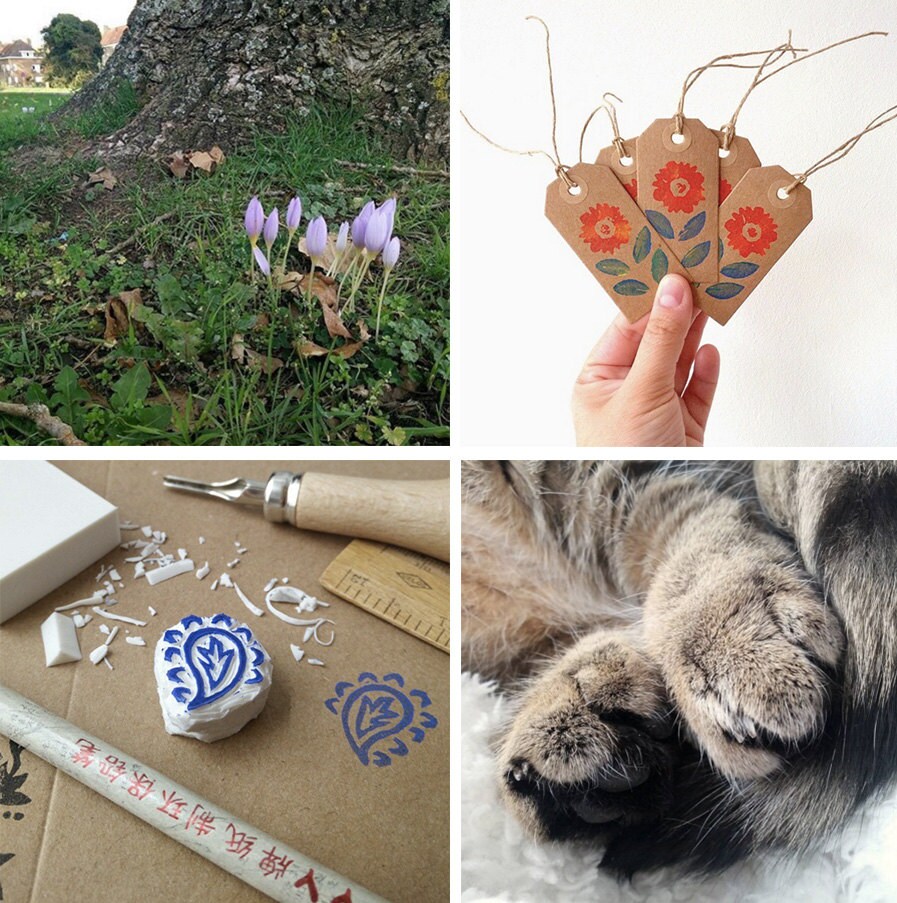 "Cally often shares images of her work, local surroundings and process on her brand's

Instagram account

. 'People also love to see a furball friend if you have one!' she says. Photos by

Forest & Sea"
................................................................................
hand drawn nature on fabric, accessories & homeware